TriDent Budapest, Hungary Testimonials
Testimonials
Testimonials
Before treating patients from abroad, many of our clients were Hungarian well-known people. Here you can see some opinions received from our British and American patients.
G. Mendel (NY, USA)
My name is George Mendel. I am Time Magazine's stringer in Hungary. I've moved to Hungary in 2001 from New York. I was introduced to doctor Toth by my friend (also a doctor) three years ago, when my wife was in need of an emergency tooth repair, since one of her teeth lost the filling and broke in two pieces, half of it becoming loose and completely unrepairable. Dr. Toth after working on the problem for two hours, reconstructed the tooth entirely, looking like it never had any cavity, in other words he created a new tooth out of a chunk, which looks amazingly natural and original.
My own problem, which was magically repaired by doctor Toth was, what it started with the replacement of two fillings in my front teeth. Before he started to work on my fillings, I've asked him about the possibility of fixing the gap between my front teeth, gap which I've had since I brush my teeth. Earlier in the USA, my dentist recommended that I would need a crown on both of those teeth and the gap will disappear. Doctor Toth showed me in a computerized image, how my teeth will look after reconstructing work is done, but honestly I could not imagine how he will be able to fill that gap entirely. After the work was done and I've looked in the mirror, I did not believe my eyes, the result was so impressive and beautiful, that I said to him: he's a magician. My front teeth are looking the way they should look originally. As a matter of fact, last September, I proudly showed the work to my former dentist in New York, who asked me to congratulate doctor Toth on his behalf.
And the most important thing I did not mention yet: the fees and prices are just a fraction of what I would pay overseas for the same work. In my opinion one can travel to Budapest, have the dental work done and at the end, all prices added up (including airfare), would come out cheaper than - lets say - back in New York. A plus to all I've said before, is the beautiful, modern equipment doctor Toth is using.
This is why I highly recommend doctor Toth to all my friends, relatives and everybody who needs high quality dental work.
O. Lopez (USA)
To those looking for a qualified dentist:
You can rest assured that Dr. Toth's offices have the latest technological advances in the dental field.  It is very apparent that he takes great pride in having the most up-to-date tools and techniques in order to provide the highest level of care possible.  He is very patient, personable and always referred to himself as "George", which I think helps to reduce the tension/fear that is usually associated with a visit to the dentist.
About my procedures:
General hygiene… tartar removal… high standard procedure.
2 cavity fillings--one of which was quite a complicated procedure due to the closeness to the nerve, but he removed the decay very cautiously in order to avoid a more severe root canal treatment.
2 cosmetic bonding procedures on the canines to enhance and bring harmony to my smile...the improvement is remarkable. I am extremely happy of the results. He even made photos of the before and after so he could share with his colleagues at Hungaran Academy of Esthetic Dentistry (HAED), of which he is a board member.  He also sent me the before and after photos while I was in the office. 
Also, his assistants were helpful and called me a taxi 2 times! :D  Thanks!
To those seeking a highly competent and passionate dentist (with the latest gizmos and gadgets), George will meet/exceed your expectations.
Oscar
USA
Ria (USA)
When my dentist in upstate New York quoted me tens of thousands of dollars for implants I though I might never be able to retire. While scheduling a trip to Europe to visit relatives I checked out various options. I discovered that Budapest is where Europeans go when treatment is too expensive or not covered by insurance in their own country. Of the various websites, the one of Dr. Toth struck me as containing a lot of useful and practical information. What luck that I followed my instinct - everything turned out exactly as described, and better - the care, the equipment, the recommended hotel, the quality of the work and the kindness of Dr. Toth and his staff.
I spent 5 days in Budapest, during which Dr. Toth completed the preliminary work – extraction of upper teeth and fitting with temporary dentures. Back home my local dentist complimented the work done. I am looking forward to returning to Hungary in a few months for the implant procedure.  I feel very fortunate to have state-of-the art care available without risking going into debt.
To be continued…
Ria
USA
D. Fortune (London, UK)
"After years of neglect, and a very nervous attitude towards dentists following treatment for broken teeth when a young boy, I was more than relieved when I arrived in Budapest and met first Andrea (my agent) and then George (Dr. Tóth) my new dentist. They were both kind attentive people who spoke perfect English and put me completely at ease. The whole package of flights, hotel, local transport and dentistry was organized to perfection by Andrea. The dentistry treatment was first class, in the space of a few days I had a considerable amount of dental treatment including a new bridge to replace my old plastic denture. The surgery environment and equipment used are the very best including computer technology and digital dental photography. I was always made to feel comfortable and before any treatment was started the work was fully explained to me. Budapest is a beautiful city and I am looking forward to going back in a few weeks time to see more of the sights and to complete my dental treatment. In the space of two visits lasting a few days each I will have completed major dental treatment at a fraction of the cost of UK prices but more importantly in an environment and with personal attention that would be difficult to find in the UK."
P. Payne (London, UK)
"Hi dr. Toth, Thank you for all your help. I'm very happy with the work you done. The implants are great. You have replaced my missing front teeth. It appears as natural as my own teeth and now I can't stop smiling. My friends can't belive how good my new front teeth look. The whole implant process was wonderful. Back to eating what I want. I appreciate that you even came in to do work on me on your day off. My rating is: 10/10!"
T. Lillian (Salt Lake City, Utah, USA)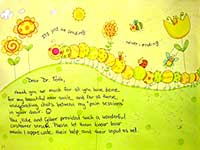 Dear Dr. Toth!
Thank you so much for all you have done for my beautiful new smile and for all those invigorating chats between my "pain sessions" in your chair.:-)
You, Ilike and Gábor provided such a wonderful customer service. Please let them know how much I appreciate their help and their input as well.
I. Wender (Long Beach, NYC, USA)
Hello,
My name is Irene Wender, I'm an 86 years old Hungarian, who lives in Long Beach, New York, USA since 1960. I travel to my home country of Hungary very often. One year ago an unfortunate event happened to me, I broke my denture. I went back to my dentist, who created it for me originally, who told me that I need another one since it cannot be repaired. He then made me a new denture, which did not fit me properly even after many days of fixing and remodeling it. This fact made me not to use the lower portion of the denture. For more than six months I was ashamed to walk on the street with no teeth. At this time, talking on the phone to one of my relatives in Budapest, telling him about my misfortune, he told me that he knows an excellent doctor, who will be able to help me. I decided to travel to Budapest and in a short time I was introduced to a very sympathetic young dentist, who's name is Dr. György Tóth. In 7 days, he recreated my denture in a way, I have never had it before, it fits perfectly, it's comfortable and most importantly was very cheap compared to what I paid for the faulty one in Long Beach.
God bless you Dr. Toth for what you did for me. Thank you, thank you, thank you !!!
Z. Murlasits (Gainesville, FL, USA)
Dear Dr. Toth!
Thank you for seeing me on a short notice during my recent trip to Hungary!
Most importantly, thank you for your excellent work that saved my tooth!
Everything looks and feels great. I will most definitely recommend you to my friends in Florida.
L. & A. Hajdu (Kitchener, Ontario, Canada)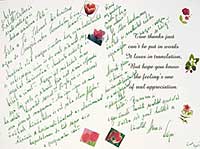 Dear Dr. Toth!
We were really glad to see you again. We would like to thank you our brand new smile, that is admired by our friends. They ask for your address and contact. My teeth not only work perfectly, but it make me look younger for a few years! My smile –I owe to you- is so beautiful on photos too, that I can hardly recognize myself. Thank you once more our new teeth, and for your help and patience in connection with my travels.
Steve Nahm (Canada)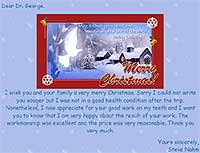 Dear Dr. George!
I wish you and your family a very merry Christmas. Sorry I could not write you sooner but I was not in a good health condition after the trip. Nonetheless, I now appreciate for your good work on my teeth and I want you to know that I am very happy about the result of your work. The workmanship was excellent and the price was very reasonable. Thank you very much.
Yours sincerely,
Steve Nahm